Arduino - Servo.writeMicroseconds()
Descripción
Escribe un valor en microsegundos (uS) para el servo, controlando el eje en consecuencia. En un servo estándar, esto posiciinará el ángulo del eje. En servos estándar un parámetro de un valor de 1000 lo posicina completamente hacia la izquierda, 2000 los posiciona totalmente hacia la derecha, y 1500 lo posiciona en el medio.
Tenga en cuenta que algunos fabricantes no siguen esta norma estrictamente por lo que los servos a menudo responden a valores entre 700 y 2300. No dude en para aumentar estos criterios de valoración hasta que el servo ya no sigue aumentando su rango. Tenga en cuenta sin embargo, que intentar llevar un servo más allá de sus puntos finales (a menudo indicado por un sonido gutural) es un estado de alto consumo de corriente, y debe ser evitado.
Los servos de rotación continua responderán a la función writeMicrosecond de una manera análoga a la función de Servo.write().
Sintaxis
servo.

writeMicroseconds

(uS)
Parámetros
servo

: una variable de tipo

Servo

uS

: el valor del parámetro en microsegundos (int)
Ejemplo
Hardware Required
Please note: These are Amazon affiliate links. If you buy the components through these links, We will get a commission at no extra cost to you. We appreciate it.
Wiring Diagram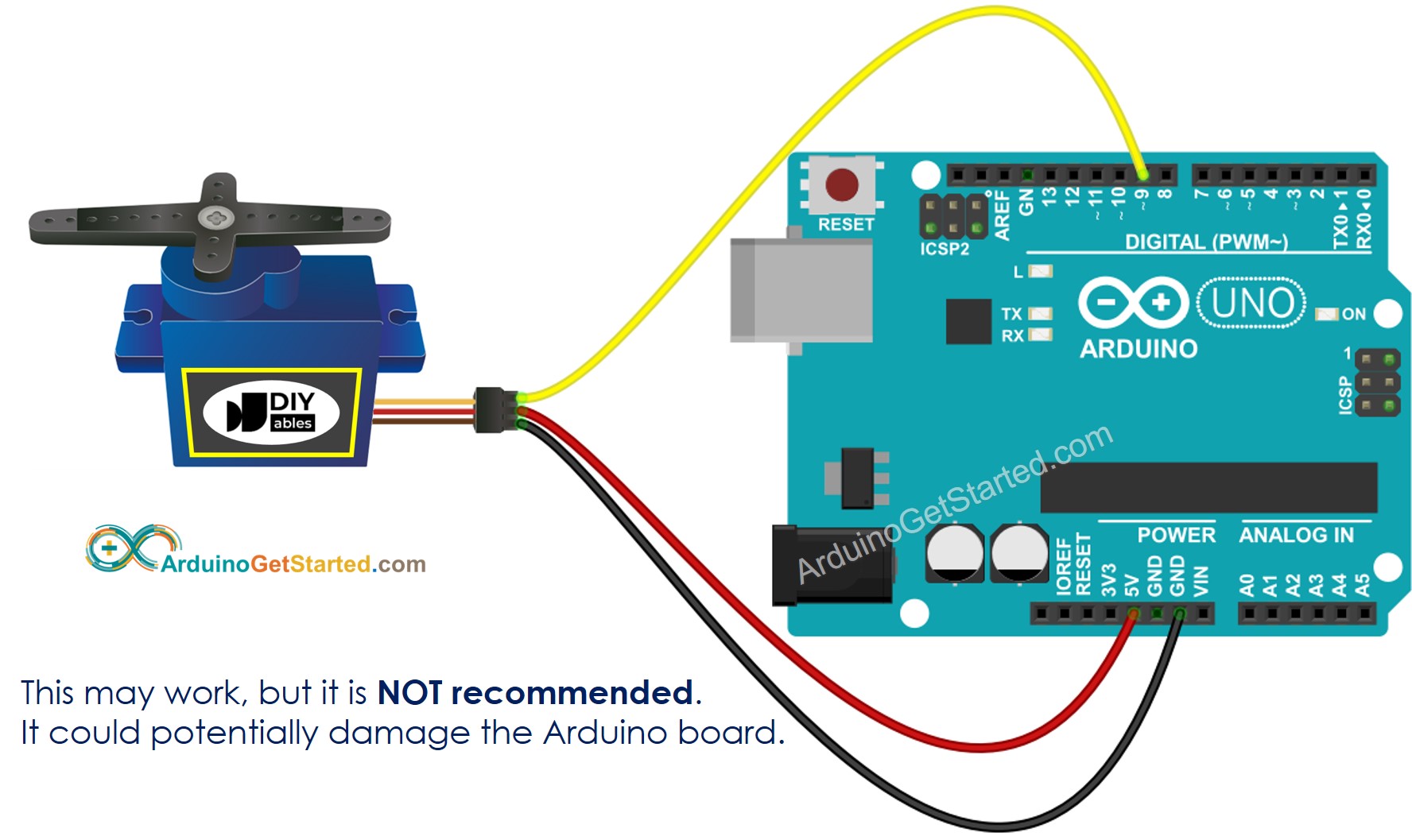 This image is created using Fritzing. Click to enlarge image
Arduino Code
#

include

<

Servo

.h>
Servo

myservo;
void

setup

()
{
myservo.

attach

(9);
myservo.

writeMicroseconds

(1500);

// set servo to mid-point
}
void

loop

() {}
※ ARDUINO BUY RECOMMENDATION